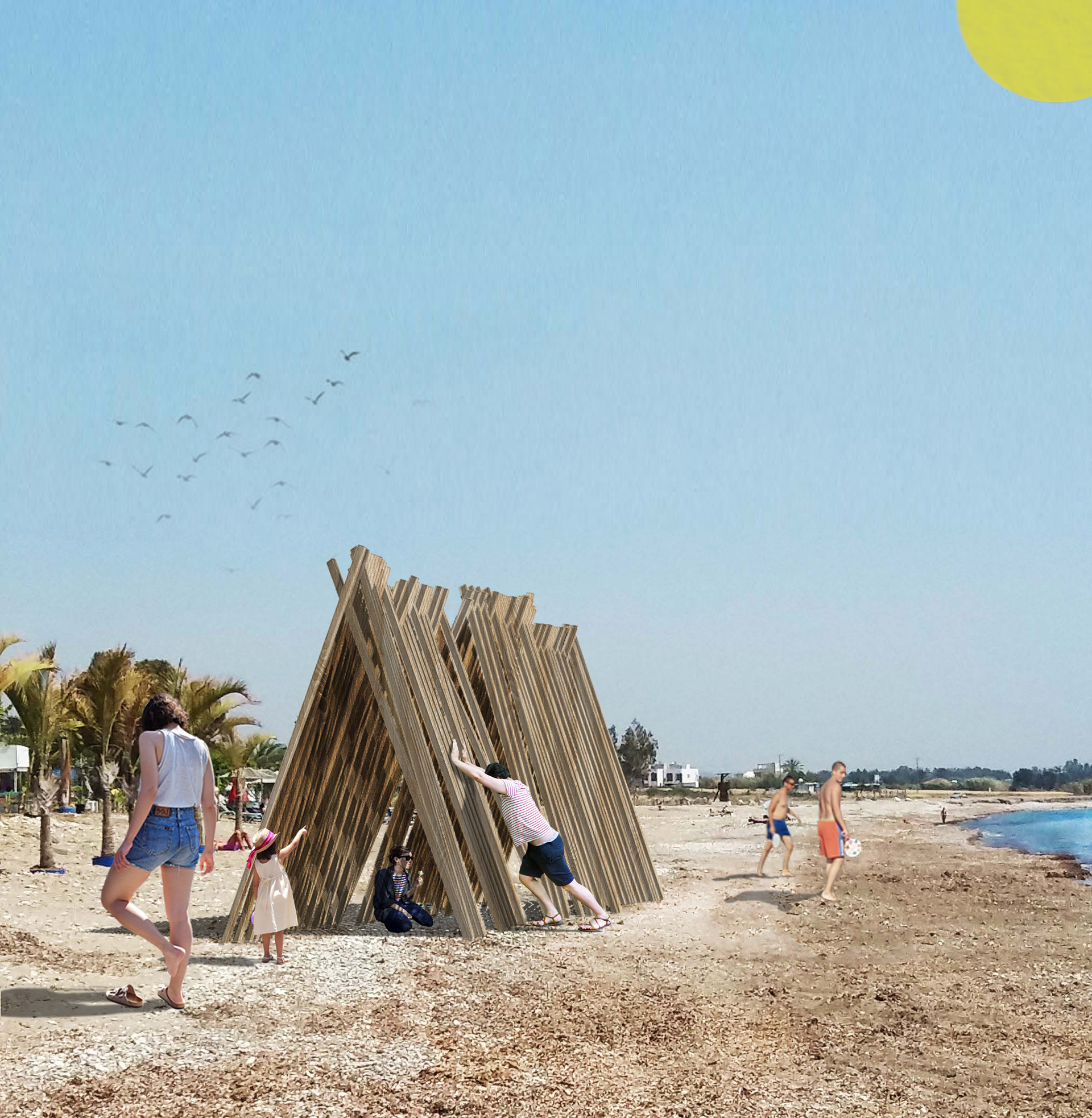 status: preliminary design
Attempting to rethink the modular unit, we challenge ourselves to use a simple construction material that will always be mass produced: a standard size timber beam. The canopy develops by the repetition of this single beam and a single type of connection. By connecting 2 of the beams with a threaded rod in different heights and fixing the beams into the ground, the wooden modular unit becomes the only design element.
Wood is a natural material, that blends well in a beach setting and is naturally integrated with the surroundings. It is also recyclable and reusable. The material is pre-treated against microorganisms, humidity and sunlight and around the foundation of each beam there is gravel to further protect it from ground moisture.
The visitors can walk through, sit, lie down, play with the sand, hang their towel or simply rest on the beams in order to enjoy the view. The canopy potentially offers private and/or semi-private spaces and it creates a shaded structure that frames the landscape. The position of the beams allow rays of light to enter, intensifying the contrast between light and shadow. Air also flows through, keeping the inside of the structure as well as the visitors cool. The space created under and around the canopy is a place that blurs the boundaries between indoor and outdoor space. The objective is not only to create shadow but rather to embrace the dynamic character of the light patterns generated.
Because of the simplicity of construction, the canopy can be placed anywhere, even in the water simply by adjusting the foundation detail. This makes the canopy a flexible system, with many possible forms, ready to adapt to any kind of surroundings. It can be permanent or disassembled easily. While the system is basic, the shape of the structure can be endlessly reconfigured reacting to the ground and the user's needs.